Research Prediction: Artificial Intelligence Will Exceed Human Beings More Than 50 Years Later
Machine vision system through the machine vision products will be taken into the image signal conversion target, sent to a dedicated image processing system to get the shape of the ingested information, and then reflect the distribution of pixels, brightness, color, etc. into digital signals, Then use the artificial intelligence software system to analyze and process the data, finally deduce the information we need and make the next analysis and decision.
With the industrial wave of 4.0 hit, machine vision will get rid of the initial "aids" and become the "eyes" and "brains" of production systems. At present, machine vision has matured in developed countries and the industry has entered a period of steady growth.
According to the "2017-2022 China Machine Vision Industry Prospects and Investment Prediction Analysis Report" issued by Forward Industry Research Institute, the data of various authoritative agencies are summarized. Currently, the global market size of machine vision is between 4.5 to 7.0 billion U.S. dollars. According to the companies Markets and Markets, the global market for machine vision in 2016 was about 6.2 billion U.S. dollars, with a CAGR of about 12% for the period from 2002 to 2016. According to the statistics released by the Automated Imaging Association, The market for vision systems and components is $ 4.2 billion, up from about $ 4.6 billion in 2016 and the global market for machine vision systems and components is expected to reach $ 5 billion in 2017.
Exhibit 1: Market Size of Global Machine Vision Systems and Components, 2008-2016 (Unit: 100 million US Dollars)
2008-2016 Global Machine Vision Systems and Components Market Size (Unit: Billion USD)
Source: Foresight Industry Institute finishing

2017 Global Machine Vision Distribution
From the application distribution point of view, the current popularity of machine vision in foreign countries mainly in the semiconductor and electronics industries, of which about 40% -50% are concentrated in the semiconductor industry. In addition, the machine vision system has also been widely used in all aspects of quality inspection, and its products occupy a decisive position in the application.
In terms of geographical distribution, the early development of machine vision mainly concentrates in Europe, the United States and Japan. With the shift of global manufacturing center to China, the Chinese machine vision market is becoming an important target market for international machine vision manufacturers after North America, Europe and Japan. The share of the European and American markets is steady. However, overall, North America is still the largest market for machine vision with a share of around 35-40%.
Currently, the Asia-Pacific region occupies a leading position in the world market for machine vision systems and its components and is also the fastest growing region in the market for machine vision systems with a compound annual growth rate of 11% during 2011-2016. Followed by North America, accounting for more than 30% market share, becoming the world's second largest machine vision market growth area.
Exhibit 2: Global Machine Vision Industry Regional Structure in 2016 (Unit:%)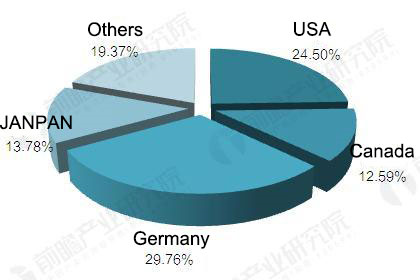 2016 Global Machine Vision Industry Regional Structure (Unit:%)
Source: Foresight Industry Institute finishing
2025 Global Machine Vision Forecast
Modern industrial automation technology matures. More and more manufacturing enterprises consider how to use machine vision to help the production line achieve functions such as inspection, measurement and automatic identification, so as to increase efficiency and reduce costs so as to maximize production efficiency. As a new technology, machine vision has high hopes, is considered a promising segment of the automation industry. Because of the superiority of the technology itself, machine vision has good prospects in many fields.
According to the AIA survey, only 5% of potential users currently use machine vision in the long-term potential market, that is, 95% of potential users still need it but have not yet used machine vision. After the full potential has been realized, Of the market can reach 120 billion US dollars, of course, this potential will take a long time to dig, but in the short term is still optimistic about the market to maintain about 15% growth in 2025 to 15 billion US dollars; According to Markets and Markets is expected to 2020 global market It will reach 12.5 billion U.S. dollars in size and more than 19.2 billion U.S. dollars by 2025.
Exhibit 3: Global Machine Vision Market Forecast for 2020-2025 (Unit: 100 million U.S. dollars)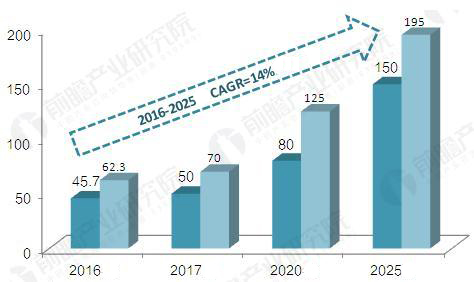 2020-2025 Global Machine Vision Market Forecast (Unit: 100 million US dollars)
Source: Foresight Industry Institute finishing