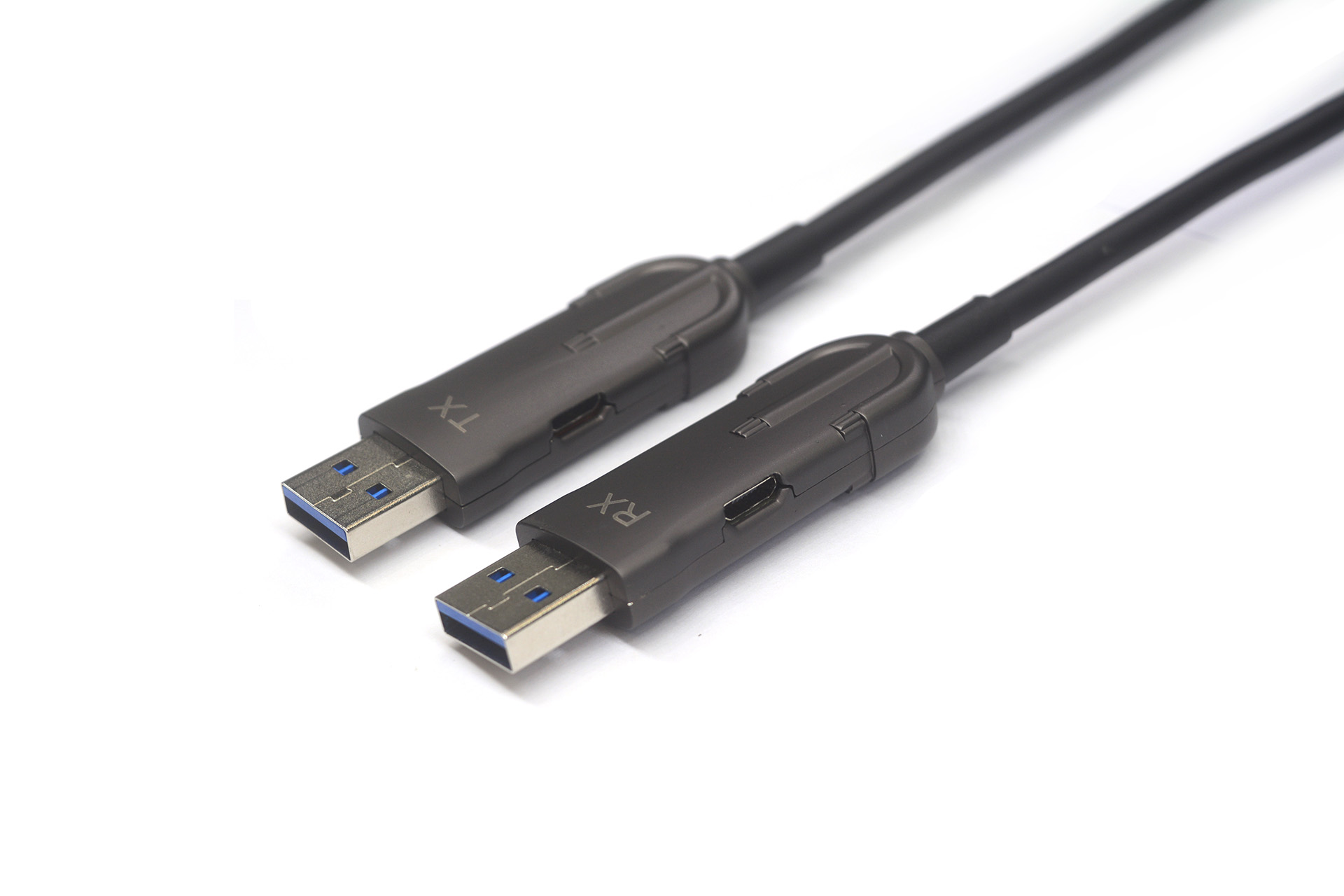 USB3 A-A Active Optical Cable with external power supply
Model number: USB3-AOC-AAE
Application: drag chain, PC/Hub/Frame grabber connection

Send Inquiry
Chat Now
Product Details
USB3 A-A Active Optical Cable has two USB 3.0 Type-A male connectors. There is a micro-B receptacle on the side of both Type-A connectors, it's for the external power supply. Please note that the external power supply is optional, we use the external power supply receptacle when we need large power consumption only. We can use the cable for connecting between two USB hubs. Or, we can connect the USB hub to the host computer/frame grabber. Due to the advantage of active optical fiber, the transmission can be 5Gbps without signal loss or distortion. Meanwhile, the cable is high flex and can bend over 10 million cycles. We can install it on the drag chain.
USB3 A-A Active Optical Cable Features
Transmit speed up to 5Gbps.
As long as 30 meters.
100% EMC and EMI.
Hot-swap supported.
Bending over 10 million cycles, suitable for drag chains, and robots.
Stable and durable.
Meet USB3 vision standards.
Do not require an extern power supply.
As we know, the USB3 copper cable can be as long as 5 meters. If you'd use a USB3 cable longer than 5 meters, you'd better use a USB3 AOC(active optical cable) instead.
Our AOC machine vision cable is not only applicated to the industrial area but also for consumer electronics. Such as printing, digital signage, conference systems, game console, VR/AR, etc.
The USB3 Type-A to Type-A AOC material is made of optical fiber, so it is tiny, lightweight, and space-saving. Meanwhile, it has superior bending performance. Withstand side pressure performance, facilitate wiring construction and save cost. The transmitting end and the receiving end are shielded by a zinc alloy shell to provide maximum strength and durability.
For USB3 vision standards, please visit 
Wikipedia
.
Related Products
Inquiry