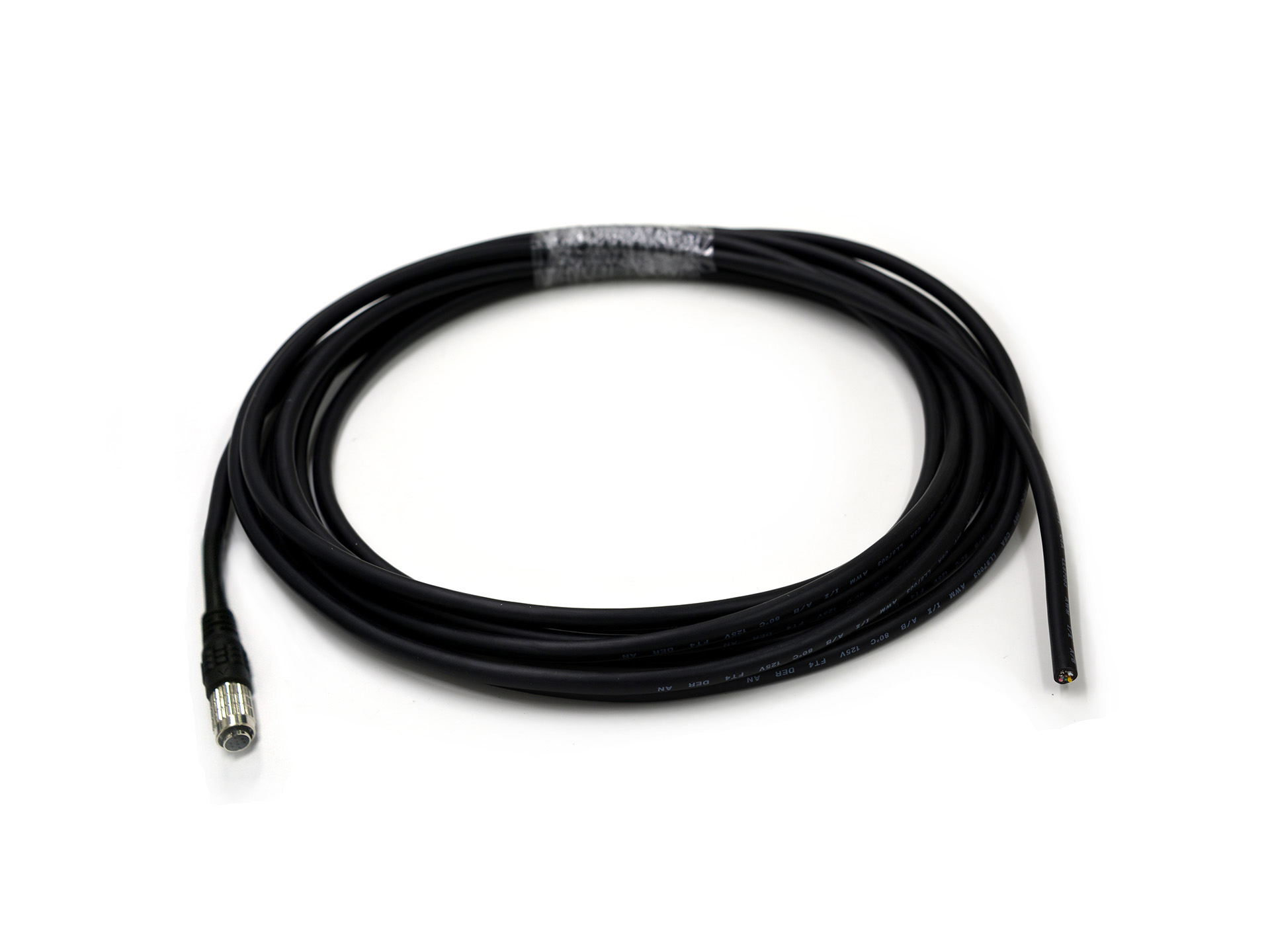 Hirose 8pin female cable for power supply and io trigger
Model number: DHT-C-0507
Application: static, power supply and trigger io

Send Inquiry
Chat Now
Product Details
The Hirose 8pin female cable has one HR25-7TP-8S Hirose 8pin female connector. The other side of this cable is flying lead.
Hirose 8pin female cable features:
Abrasion-resistant, flame-resistant, torsion-resistant, heat-resistant.
Open flying lead, easy for making DIY connections according to your needs.
All 8 28AWG wires.
Full shield cable.
Overmold connector, as a result, IP56 dustproof, and waterproof rating.
Compatibility Cameras List
DAHENG industrial cameras, such as MERCURY2 GigE PoE series (MER2-G-P) camera, MERCURY2 PRO series (ME2P-G-P) camera, MERCURY2 USB3 Vision camera, standard version (MER2-U3(-L)series), Pro version (ME2P-U3series), and Lite version (ME2L-U3(-L)series), MER2-G Series, MARS-G5-P Series, ME2P-U3 Series, MER2-U3 Series, MARS-U3 Series, MARS-G-P Series, MER-G-P Series area scan cameras.
Allied Vision AVT Mako G series GigE Vision Cameras, such as AVT Mako G-503B. AVT Guppy series IEEE FireWire 1394 Vision Cameras, such as AVT Guppy F080B.
Basler racer GigE and runner cameras.
Sony industrial CCD camera.
More industrial Machine Vision cameras with Hirose 8pin male connector.
Replaceable Cables
Allied Vision cables, such as order code: 13868 (Desktop power supply without connection cable), order code: 13866 (AC power cable, 1.8 m, US to C13). order code: 13865 (AC power cable, 1.8 m, EU to C13).
Any other cables that have an HR25-7TP-8S connector.
HR25-7TP-8S cable Customization:
We accept any customization not limited to the following:
Cable length from 0.2 meters to 15 meters.
Cable color, for example, we have beige and black as options.
The connector type, such as HR25-7TP-8S, HR25-7TP-8P.
Wire type, twist, and non-twist as options.
Connector right angle orientation.  That is to say, we have 8 orientations for options.
Please refer to our
product catalog
for more Hirose 8pin cables.
Related Products
Inquiry