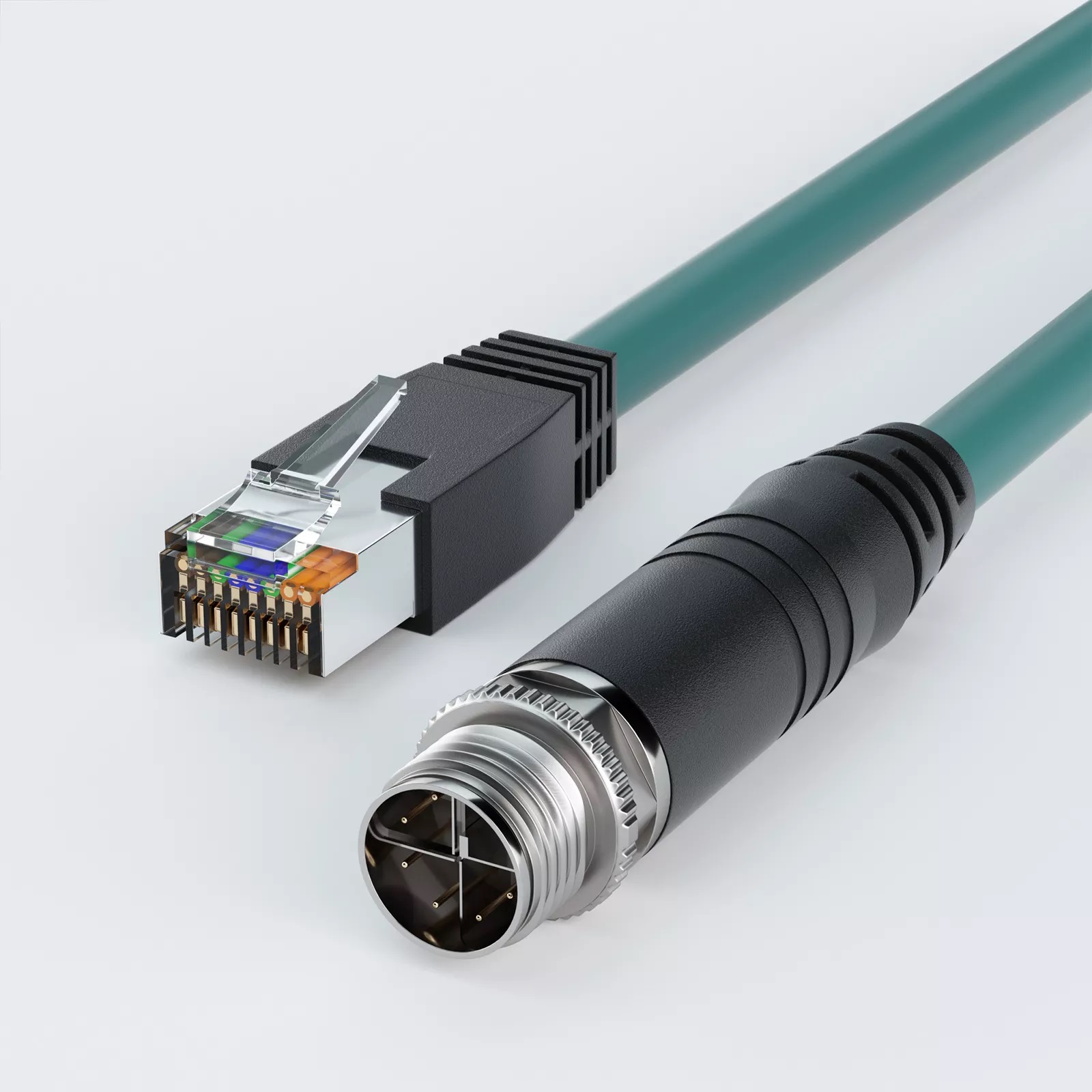 M12 x-code to RJ45 GigE cable
Model Number: DHT-C-0383-2
Application: drag chain

Send Inquiry
Chat Now
Product Details
M12 X-code to RJ45 cable meets industrial GigE vision standards and is compatible with Cognex industrial cameras. Besides, the M12 X coded 8pin male connector provides waterproof features and is suitable outdoors. In conclusion, they ensure network throughput in harsh industrial environments.
M12 X-code to RJ45 cable features:
Future-proof data cabling with up to 10 Gbps.
High flexible, bending more than 5 million cycles.
Outdoor CMX rated, waterproof IP68 M12 to RJ45 double shielded.
Easy, time-saving installation: M12 connectors with a push-pull fast-locking system allow secure, tool-free connections.
One side with M12 8P Male X Coded, and another side with RJ45 Straight connector.
Compatibility Cameras List
Cognex cameras, such as CKR-202-001, ISM1100-10, CCB-M8IO-02, CCB-84901-1002-02, VPRO-BASE-U, CAM-FWB-SCT-VM, CFB-CBL-15, CFB-IO-CBL-SCOUT, CFB-IC3.
Cognex In-Sight series industrial cameras with ENET M12 8-PIN x coded connector.
Any other industrial cameras with an M12 8pin X-coded female connector.
M12 X-code cable application
Industrial machine.
EtherCAT and etherNet/IP.
Factory automation.
Outdoor network connection.
Customization
Cable length, such as 1 meter, 10 meters, as long as 100 meters.
The connector angle orientation. For example, the m12 8pin male connector can have any right angle for options. Meanwhile, The RJ45 connector can have 8-angle orientations for customization.
The M12 connector type, such as male, female, a-code, or x-code.
For more information about M12 connectors, please visit 
https://en.wikipedia.org/wiki/IEC_metric_screw_sized_connectors.
For more M12 GigE vision cables, please refer to 
/category/products/vision-cables/m8-m12-waterproof-cable/.
Related Products
Inquiry