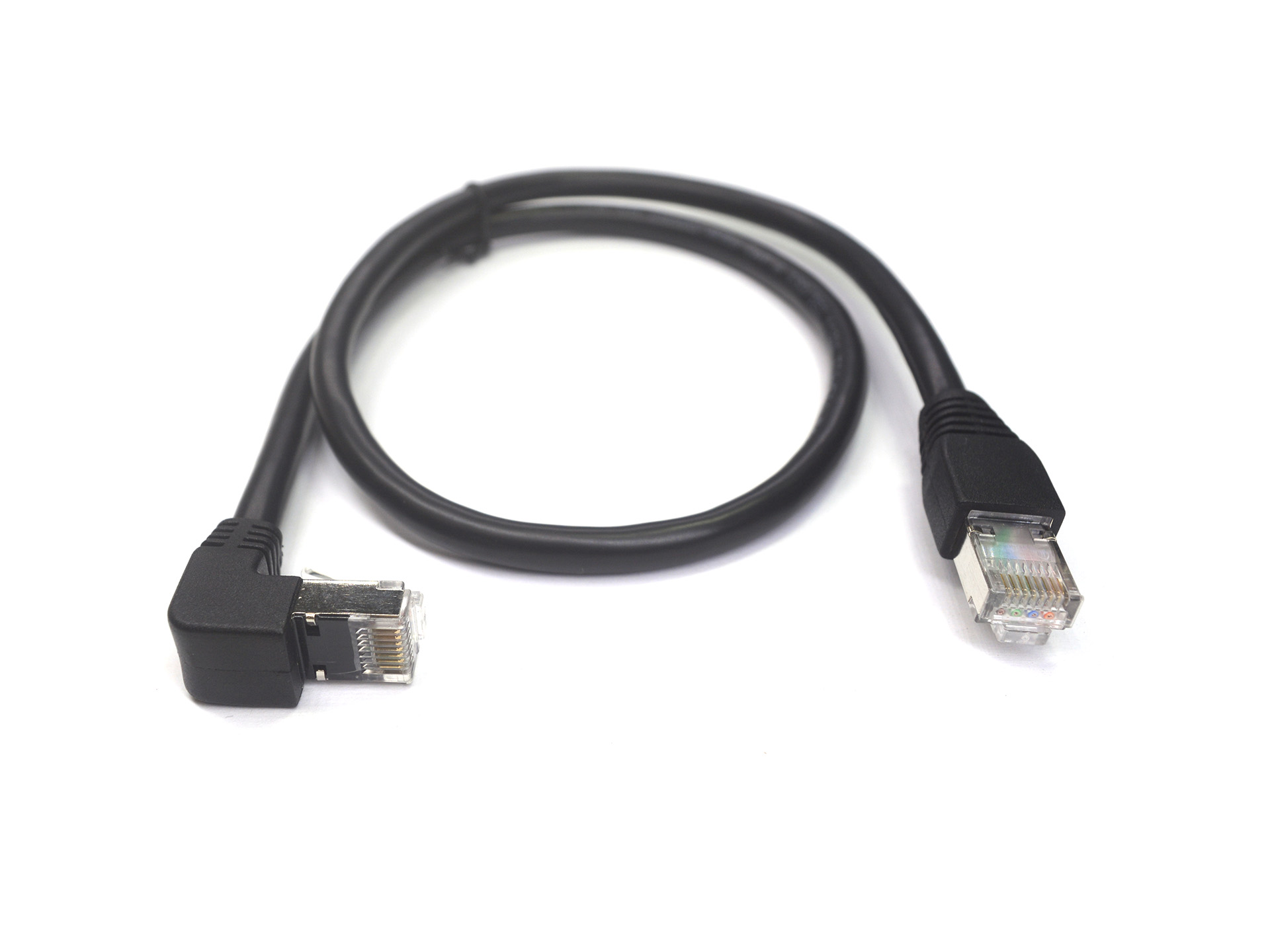 Right angle GigE cable CAT6 SSTP for industrial vision
Model Number: DHT-S-0163
Application: Gige Vision Camera

Send Inquiry
Chat Now
Product Details
The right angle GigE cable is CAT6 and SSTP double shielded. One side of this cable is right-angled, and the other side is straight. The cable is an industrial grade. It's reliable and suitable for industrial cameras, and frame grabbers. This camera cable is compatible with most GigE industrial cameras, please refer to the compatibility cameras list for more details.
Cable features:
SSTP double shield, braid + foil design for maximum protection from EMI/RFI.
Flame Retardant Grade: VW-1.
Meet industrial GigE vision standards.
Abrasion-resistant, flame-resistant, torsion-resistant, heat-resistant.
Gold-plated on the RJ45 contact.
Compatibility Cameras List
The following cameras can also use the right angle GigE cable.
Baumer GigE Cameras, such as HXG series, LXG series, MXG series, TXG series, SXG series, VCG series, VLG series, VEG series.
Dalsa GigE Cameras, such as Genie Nano series, Spyder3 series.

Emergent Vision Technologies GigE Cameras, such as Bolt 25 GigE Area Scan series, 10 GigE Area Scan series, and Accel 25 GigE Line Scan series.

JAI GigE area scan cameras, such as Fusion series, Apex series, C series, Go Series, Spark Series, and Sweep+ series.

PixeLINK GigE area scan cameras, such as PL-B741, PL-E952, PL-X9512.

Sony GigE area scan cameras, such as XCG-5005, and XCG-V60E.

illunis GigE cameras, such as CMV-50 MP GigE, CMV-71 MP GigE.

Basler GigE Cameras, such as Basler ace series, Basler aviator series, Basler pilot series, Basler racer series, Basler scout series.

Allied Vision GigE Cameras, such as Goldeye series, Mako series, Manta series, and Prosilica series.

FLIR GigE Vision Cameras, such as Blackfly S GigE series, Blackfly GigE series, Grasshopper2 GigE series, Grasshopper3 GigE series, Zebra2 GigE series, Flea3 GigE series.

Imperx GigE Vision Cameras, such as Bobcat series, C2000 3 MP CMOS Camera, IP67-C2010 3 MP CMOS Camera.

Opto-e mvBlueCOUGAR series.

The Imaging Source's GigE cameras, such as 38 series, 33 series, and 33 "e" series.

DAHENG MER-G, MER-G-P, MARS-G-P, MER2-G, MER2-G-P series GigE Vision Cameras.
Right angle GigE cable Customization
We accept any customization for the following:
Angle orientation. We have 4 orientations, that is the left angle, right angle, exit up, and exit down.
Locking screws. You can have the RJ45 connectors with/without locking screws. Besides, we usually use M2 locking screws, you can have M3 or 4-40UNC, 2-56UN locking screws instead.
Cable length. From 0.1 meters to 100 meters.
Cable type. Cat5, Cat5a, Cat5e, Cat6, or even Cat7 as options.
You can have a high flex cable for the drag chain and robot application.
Cable color. Black, green, violet and etc.
Related Products
Inquiry