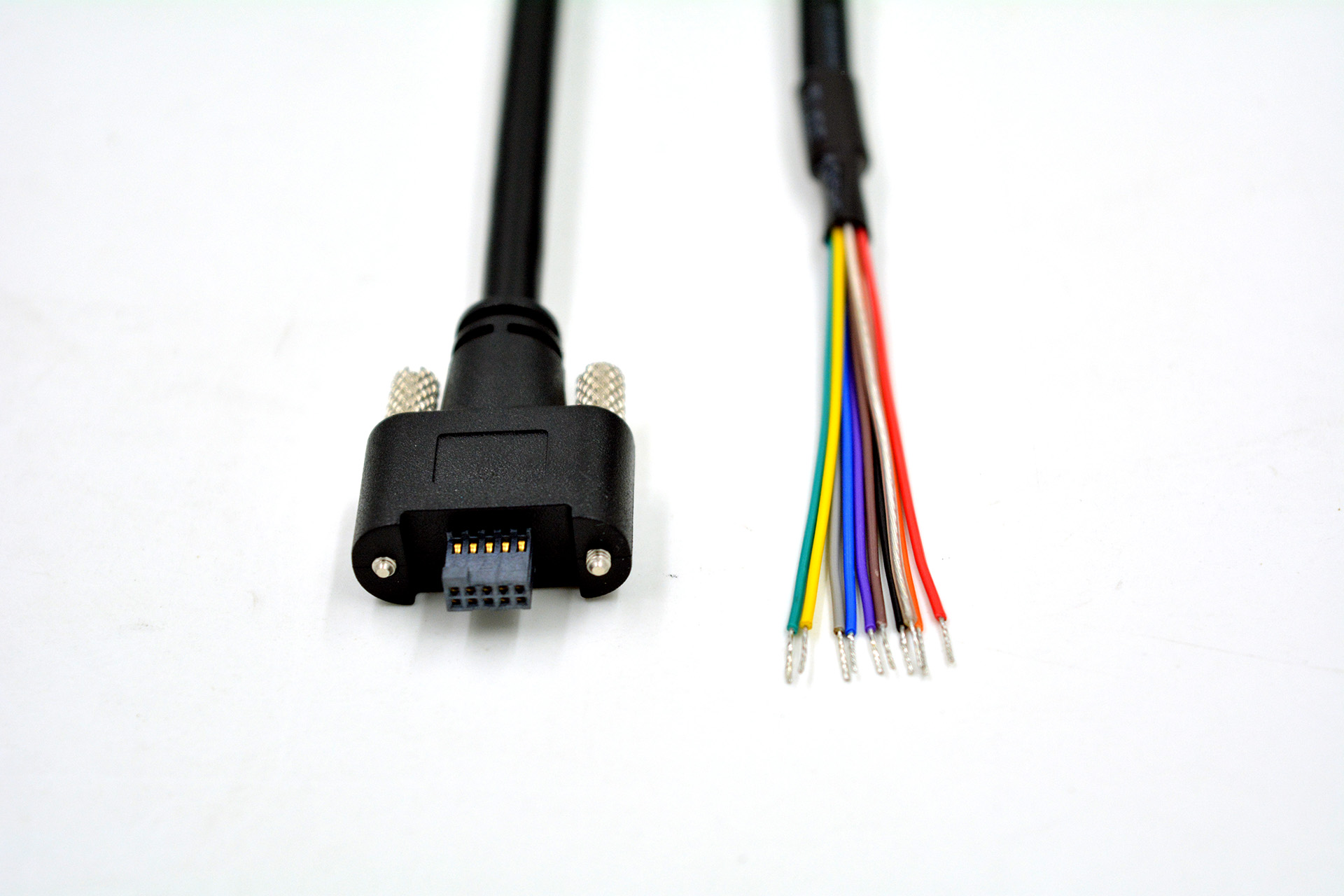 Dalsa camera IO cable flying lead with locking screws
Model Number: DHT-C-0713
Application: Power supply and IO trigger

Send Inquiry
Chat Now
Product Details
Dalsa camera IO cable has a Samtec ISDF-05-D connector 10-Pin housing connector, and the other side is flying lead. It mates with Dalsa Genie Nano- series cameras, for power supply and IO trigger.
We tinned on the flying lead, so it's easy for DIY and wiring. Meanwhile, the 10-pin housing connector is over-molded with 2 locking screws, so it can connect to the Dalsa Genie Nano industrial camera securely. We use gold plated terminal contact, it helps the connection stable and durable. There is a label on the flying lead side, it shows the wire color code according to the IO function. The wires are 10-pin non-twisted pairs, 28AWG*9C with a drain braid, we can also have twisted wires as an option.
This Dalsa camera IO cable mates with Dalsa Genie Nano series cameras. Such as Dalsa Genie Nano 5GigE, Dalsa Genie Nano CL, Dalsa Genie Nano CXP, etc. It's an alternative cable for Teledyne Cable Assembly G3-AIOC-BLUNT2M series cable,  such as DWG No.: CC C1652-XXM, CC C1722-XXM, CC C1723-XXM. We accept any customization for the cable length, connector angle orientation, pin assignment, etc. For any other housing cable, please refer to
Housing cables.
For Dalsa Genie Nano series cameras datasheet, please refer to
Teledyne DALSA
.
Related Products
Inquiry