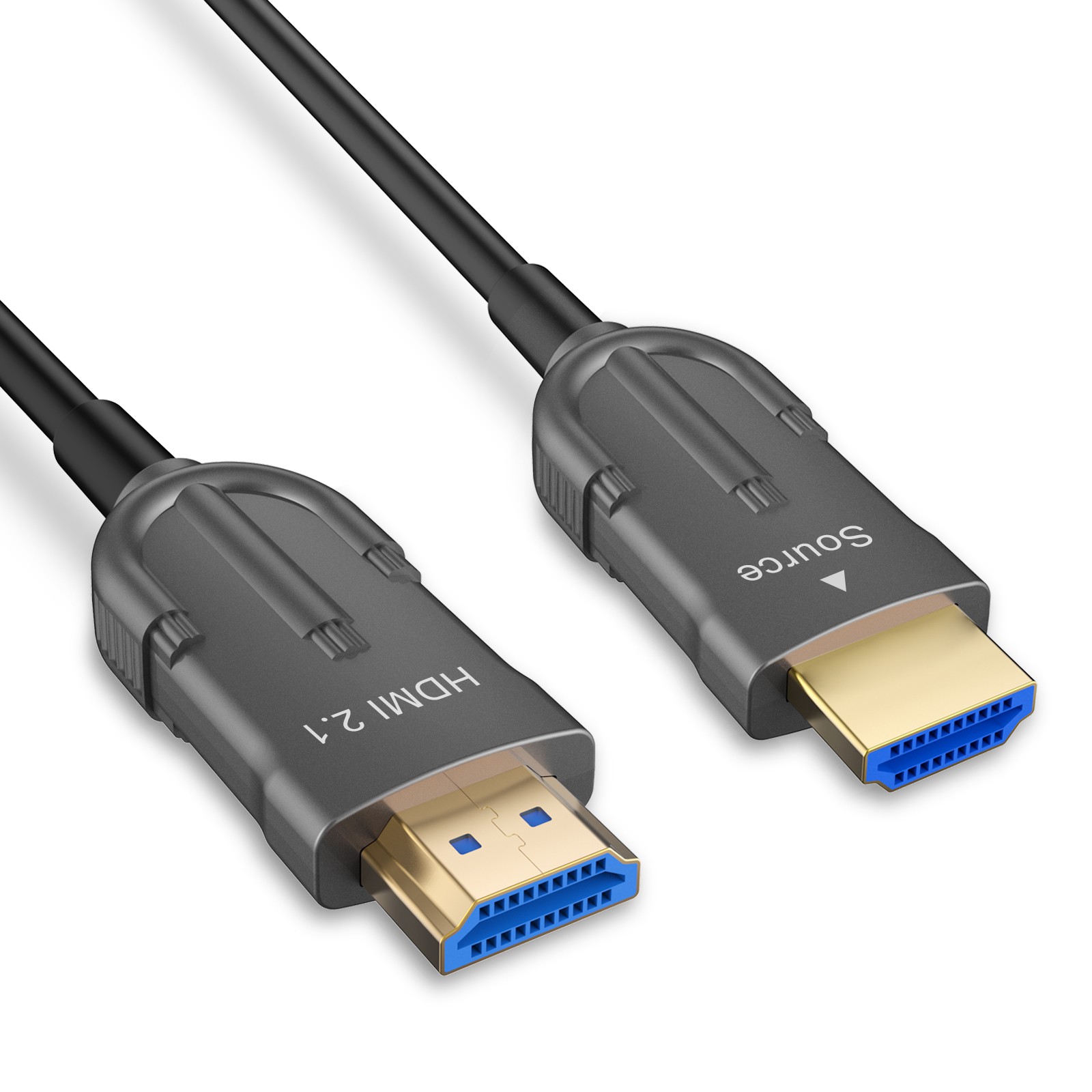 HDMI Active Optical Cable
Model Number: HDMI-AOC
Application: projectors, TV, computer, game consoles, etc.

Send Inquiry
Chat Now
Product Details
HDMI active optical cable is an alternative solution for traditional copper cable. It's more flexible, stable, and durable than traditional copper HDMI cable. The active fiber optic HDMI cable can as long as 300 meters, without signal loss or delay. This active fiber optic HDMI cable can connect many products, such as tablets, notebooks, computers, projectors, cameras, etc.  It's ideal for many applications, such as games, movies, conferences, and mobile offices.
The cable is a hybrid optical fiber for signal and copper cable for power, so it's slim, light, and highly flexible. It can bend over 5 million cycles.
The transmitter and receiver are shielded with a zinc alloy housing for maximum strength and durability. We can use this product in many application scenarios, such as security cameras, digital home theaters, medical imaging equipment, conference rooms, TV broadcasting stations, security systems, 3D video, projectors, game consoles and computers, and other application scenarios.
Active Optical HDMI Cable Features:
The maximum length can reach 300 meters. (custom lengths available).
This product is a hybrid optical fiber for signal and copper cable for power, with no signal delay, no attenuation, and no compression.
Support long-distance transmission, up to 300 meters lossless transmission.
High-speed signals are transmitted through 4 multi-mode fibers, with good anti-interference performance.
Plug and play.
Low power consumption, does not require any external power drive.
Dynamic HDR format support.
Support eARC.
Self-detection function of EDID information.
Support 8K@60Hz stable transmission, meanwhile, backward compatible with 4K, 2K and 1080P.
For more details about HDMI, please refer to
wikipedia
.
Related Products
Inquiry