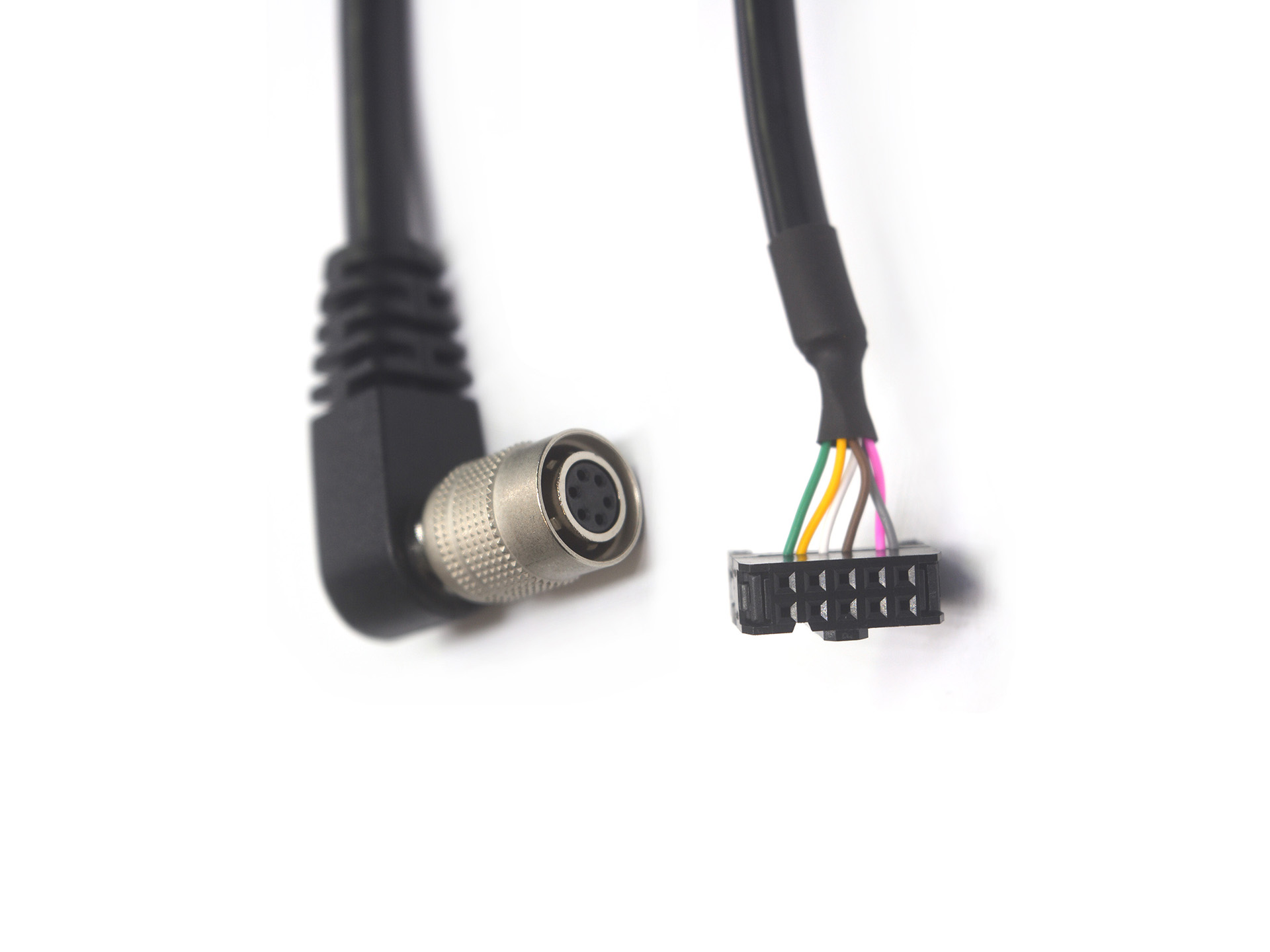 HR10A-7P-6S to IDC 10-pin housing cable
Model Number: DHT-S-0160
Application: power io trigger for camera

Send Inquiry
Chat Now
Product Details
The HR10A-7P-6S to IDC 10-pin female housing cable is for the industrial camera power supply and IO trigger. The one end is a Hirose HR10A-7P-6S right-angled 6-pin female connector, the other side is a 2×5-pin IDC 10-pin housing. Please note that the pitch of the IDC 10-pin is 2.54mm. It mates with the 10-pin 2×5 socket 2.54mm pitch. We could also customize connector type, cable length, and wire pin assignment as your requirement. The Hirose HR10A-7P-6S female 6-pin connector is compatible with most Basler cameras with 6 pins Hirose female connector. Such as Basler ace, Basler MED, Basler racer GigE and runner cameras. It is also compatible with the Sony CCD DXC XC-75 camera.
Cable Features:
Abrasion-resistant, flame-resistant, torsion-resistant, heat-resistant.
IDC 2×5-pin housing, easy for DIY.
All 6 28AWG wires.
Overmold connector, as a result, IP56 dustproof, and waterproof rating.
HR10A-7P-6S to IDC 10-pin cable Customization:
We accept any customization not limited to the following:
Cable length from 0.2 meters to 15 meters.
Cable color. We have beige and black as options.
Connector type, such as HR10A-7P-6S, HR10A-10P-12S, HR10A-10P-12P, HR10A-7TP-8S, HR10A-7TP-8P.
Wire type, twist, and non-twist as options.
Housing type. such as IDC 2×5-pin housing, 1×10-pin and etc.
Pin assignment.
Connector right angle orientation.  That is to say, we have 8 orientations for options.
Please refer to our
product catalog
for more Hirose cables, such as Hirose  HR10A-10P-12S, and HR10A-7P-8S cables.
Related Products
Inquiry