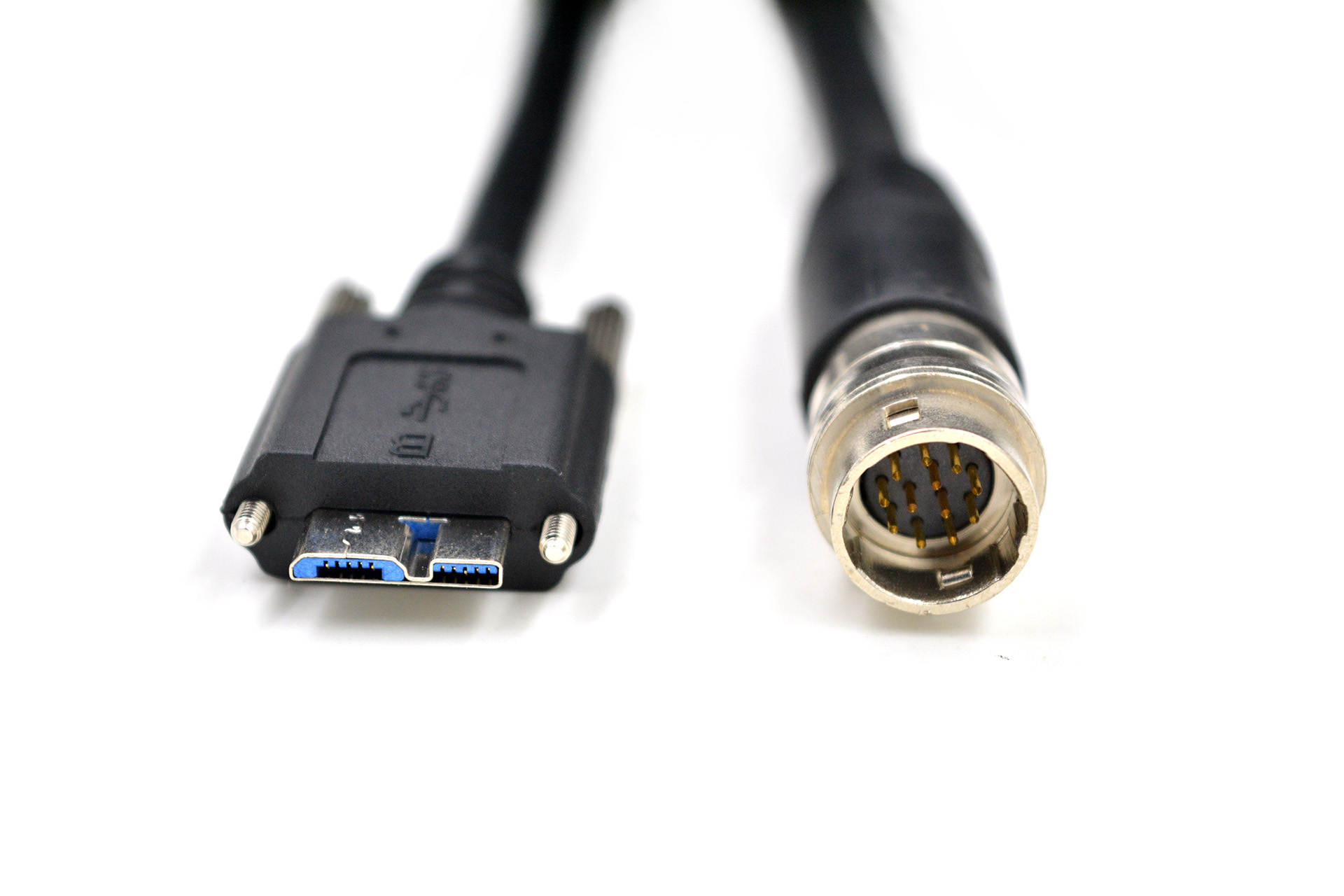 USB3.0 and Hirose 12P composed cables
Model number: DHT-C-0475
Application: USB3 vision cable

Send Inquiry
Chat Now
Product Details
The USB3.0 and Hirose 12P composed cables include two cables. One is USB3.0 Type-A male to Hirose HR10A-10P-12S female cable, and another is USB3.0 micro-B to Hirose HR10A-10J-12P male cable. Please note that the HR10A-10P-12S and HR10A-10J-12P can connect with each other. This cable couple is used to connect industrial cameras to frame grabber/computer. It
complies with the USB3.0 VISION standard, the transmission rate is up to 5G bps, and the total length is up to 5 meters. 
Compatibility Cameras List
Basler Ace series, Dark series, Pulse series.
Baumer CX series, such as VCXU-51M.
Allied Vision, such as Alvium 1800 U series, and the Mako series.
FLIR Blackfly S USB3, Blackfly USB3 series, Chameleon3 USB3 series, Firefly DL, Firefly S, Flea3 USB3 series, Grasshopper3 USB3 series.
Imperx C4180, C4181, C5180 series.
Opto-e COE-U series, mvBlueFOX3-2 series.
Teledyne, such as Lumenera LT series.
The Imaging Source, such as 23, 27, 33, 42 series, and USB 3.0 Polarsens series.
JAI , such as Alex series, Go series, and Spark series.
XIMEA, such as xiQ series, xiC series USB3 Vision Cameras.
DAHENG MER, MER2, MARS, VEN series USB3 Vision Cameras.
USB3.0 Hirose cable couple alternative
In fact, the cable couple is a USB3.0 Type-A male to micro-B male with locking screws cable.
Basler Cable USB 3.0, Micro B sl/A, P, 5 m – Data Cable(order number 2000033241).
Baumer, such as KSG U2/KSGU6GC0300G/KSG(Article no.: 11702660), U2/KSGU6GC0500G(Article no.: 11702816).
Allied, such as 9434, 12326, 12327, 12328, 12329 USB3.0 A-micro B copper cables. 12358, 12359, 12360 AOC, drag chain suitability, micro-B plug with screw locks to standard A cables.
FLIR, such as ACC-01-2300, ACC-01-2301 USB3 Type-A to Micro-B (Locking) Cable. ACC-01-2304, ACC-01-2305, ACC-01-2306 USB3 Type-A to Micro-B Locking Cable.
Opto-e CBUSB3001 Passive USB 3.0 cable, industrial level, horizontal screw locking, 3 m.
Teledyne, such as Lumenera La303ML – USB 3.1 Cable A-Male to Micro-B male Locking (3m / 9.75ft).
The Imaging Source, such as CA-USB30-AmB-BLS/3 and CA-USB30-AmB-BLS/10 USB3 vision cable.
Alysium-Tech, such as A74-2657, A74-6302, and A74-9583 USB3 vision cable.
USB3.0 Hirose cable couple customization
We accept any customization as the following:
Cable length, up to 5 meters.
Connector type. we have any USB3.0 connector types as options, such as Type-A, Type-B, micro-B, and Type-C. We also have male/female connectors, with/without locking screw connectors. the Hirose connectors can also have any more than 6-pin connectors as an option.
Connector angle orientation. We have normally four orientations as options, such as exit left, exit right, exit up, and exit down.
Cable type, color, OD, etc.
Related Products
Inquiry