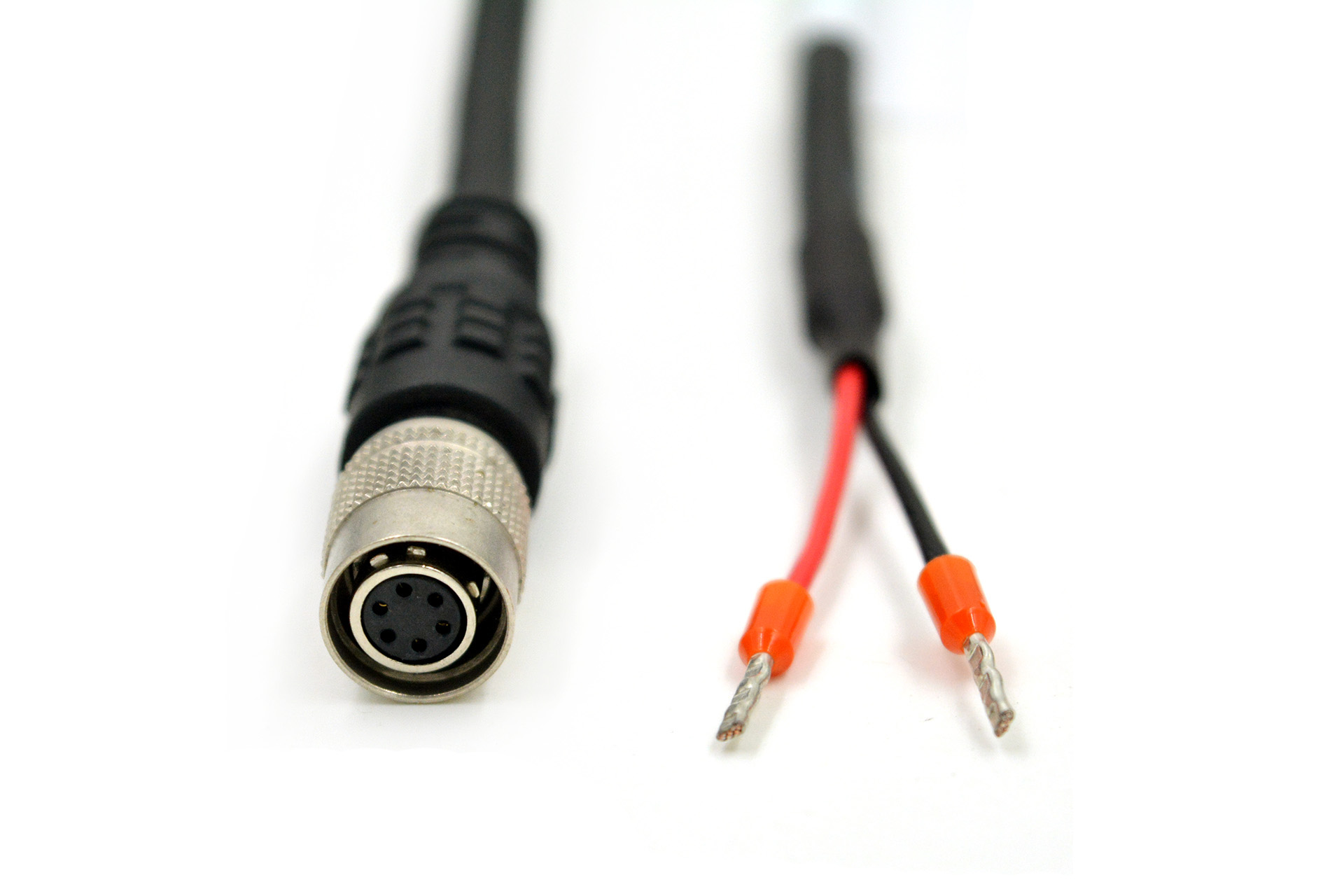 HR10A-7P-6S 2-pin power cable for industrial camera
Model number: HR10A-7P-6S-PWR2
Application: power supply

Send Inquiry
Chat Now
Product Details
The HR10A-7P-6S 2-pin power cable is dedicated to the power supply for industrial cameras. The 22AWG wires can supply high current and voltage power more stably. It's an ideal alternative cable for Basler SLP Cable, HRS 6p/TBL-L, P, 3 m(order number 2200000327).
HR10A-7P-6S 2-pin power cable Features:
Abrasion-resistant, flame-resistant, torsion-resistant, heat-resistant.
Contact resistance: 3 ohms Max.
Insulation resistance 20M ohm Min, DC 300V 0.01sec.
Crimp terminal, easy for wiring and making DIY connections according to your needs.
All 2-pin 22AWG wires.
Overmold connector, as a result, IP56 dustproof, and waterproof rating.

Compatibility Cameras List
Basler Ace series GIGE AVT CCD camera.
Sony CCD DXC XC-75 Camera.
AVT industrial camera, CCD Camera, GigE Camera.
Imaging Source GigE Camera.
HR10A-7P-6S 2-pin power cable Customization:
We accept any customization not limited to the following:
Cable length from 0.2 meters to 5 meters.
Cable color. We have beige and black as options.
Connector type, such as HR10A-7P-6S, HR10A-10P-12S, HR10A-10P-12P, HR10A-7TP-8S, HR10A-7TP-8P.
Wire type, twist, and non-twist as options.
Connector right angle orientation.  That is to say, we have 8 orientations for options.
Pin wires assignment.
Label and packing.
Please refer to our
product catalog
for more Hirose cables, such as Hirose  HR10A-10P-12S, and HR10A-7P-8S cables. We also have other Hirose power cables, such as the
HR10A-12P-12S 2-pin power cable
.
Related Products
Inquiry