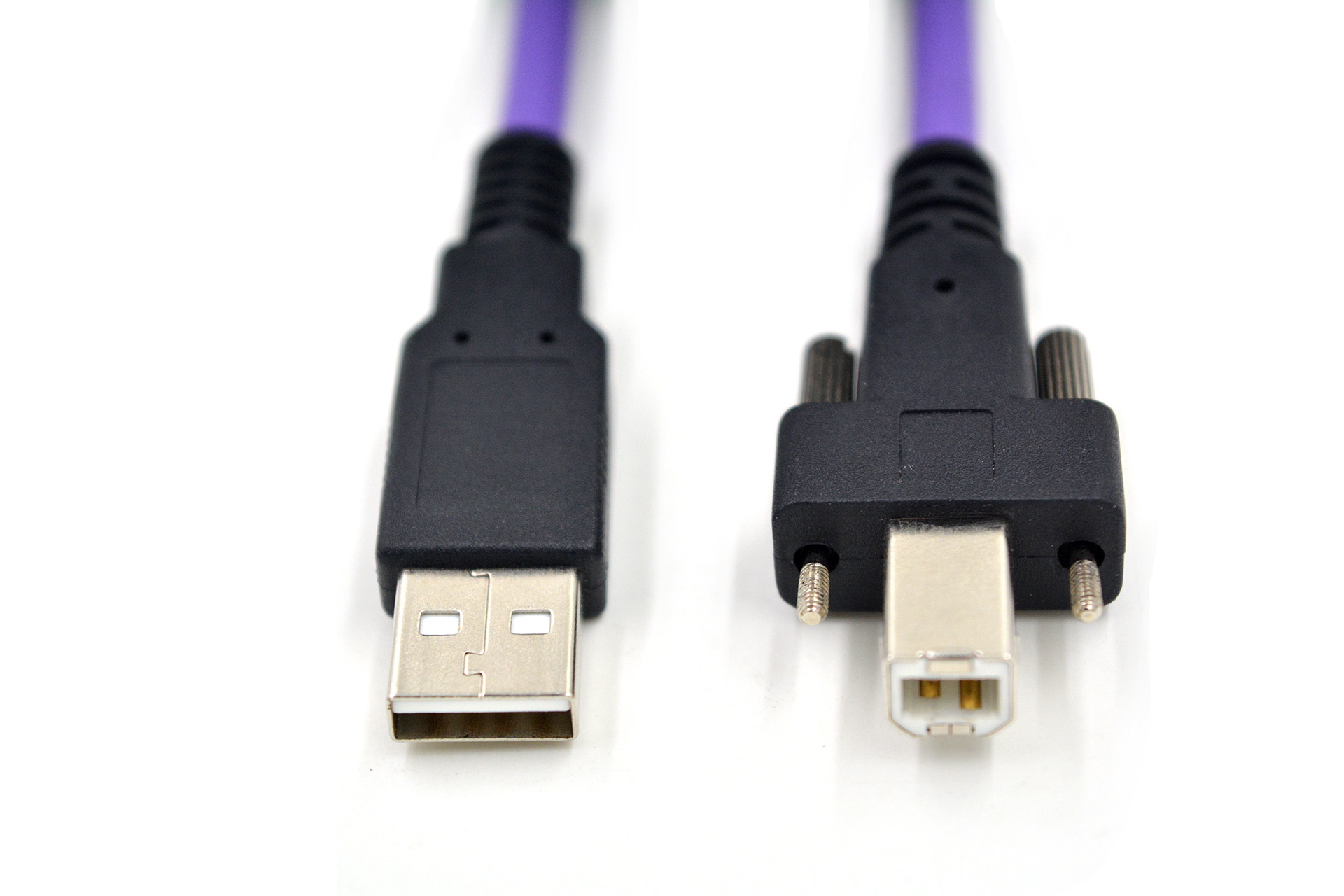 USB2.0 Type-A to Type-B cable with locking screws
Model number: DHT-C-0537
Application: high flex, for industrial cameras

Send Inquiry
Chat Now
Product Details
This USB2.0 Type-A to Type-B cable with locking screws meets the USB2.0 vision standards. We could use it for connecting the industrial camera and frame grabber. It's high flex, can bend over 10 million cycles, and can be used for the drag chain. The USB2.0 Type-B male cable is also well-known as the printer cable. we could use it not only on printers but also on many early industrial cameras.
Compatibility Cameras List
Matrix Vision USB 2.0 camera – mvBlueFOX series.
MindVision USB 2.0 camera series.
USB2.0 Type-A to Type-B cable Replaceable Cables
KS-USB2-AB 03.0 TR, KS-USB2-AB 05.0 TR, KS-USB2-B4ST 03.0, KS-USB2-B4ST 05.0, KS-USB2-B4ST SLK 05.0, KS-USB2-B4ST-AK90 02.0, KS-USB2-B4ST-AK90 05.0
Customization
We accept any customization on this USB2.0 high flex printer cable
Cable length, from 0.2 meters to 5 meters.
Cable color. We have violet and black as options, you can also have any other colors.
Connector angle orientation. You could have 4 orientations on both Type-A and Type-B sides.
Connector type. You could change all the USB2.0 connector types, even a non-over-mold connector.
Wires type. Such as static, high flex, OD, shielded and etc. We have thin cables with OD 4.0mm(up to 1.5 meters) and OD 5.2mm(for drag chain).
Overall, you could even customize a Y split cable, Lemo, and DC jacket for extra power supply cable. Please contact us for more details.
Related Products
Inquiry